Waste not want not
At Gist & Vist we are working to integrate sustainability into everything we do at our hotels and restaurants. We made a big leap in 2021, when we established a new kitchen with chef Teitur Christensen in the lead, his main task is to infuse sustainability into all our restaurants. He is in charge of finding new and more sustainable solutions when it comes to sourcing produce, cooking, packaging, and building knowledge to benefit all our restaurants. We want sustainable thinking to be incorporated into the whole process – from how and where we source our food, to how it is stored, prepared and packaged. Minimising food waste will be a big focus and we are exploring sustainable and circular solutions to all waste from our operations.
We also have a target to increase the amount of local produce used in all of our restaurants. In this context, Teitur is building closer relationships with local suppliers, so that we can support more local food production and reduce the need for unnecessary packaging.
Biodiversity and ocean health
In 2021 and the start of 2022 we concentrated on developing a robust plan to meet our goal to have a net-positive impact on nature in the future. Minimising food waste has been one of our first priorities here.
GOAL: We will look to become net-positive in our impact on marine, land and aquatic systems by 2030 and etika will be the first location to reach this goal.
Climate change
The new renewable heating solution at Hotel Føroyar is one example of how we have managed to decouple our business growth from operational carbon emissions.
In 2022 we are opening two new Etika sushi restaurants in Tórshavn and Runavík. These restaurants will be heated using green energy sources. When the new spa at Hotel Føroyar is finished, it will be heated with geothermal energy. This is another important step in reaching our net-zero CO2 emission goal by 2030.
SCOPE 1 & 2 GOAL: We commit to net-zero scope 1 and 2 CO2e emissions by 2030 (2020 baseline).
SCOPE 3 GOAL: We will reduce scope 3 CO2e emissions (from our current reporting boundary)
by 50% by 2030 (2021 baseline).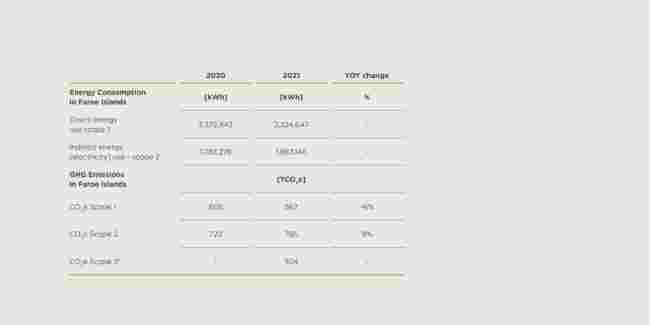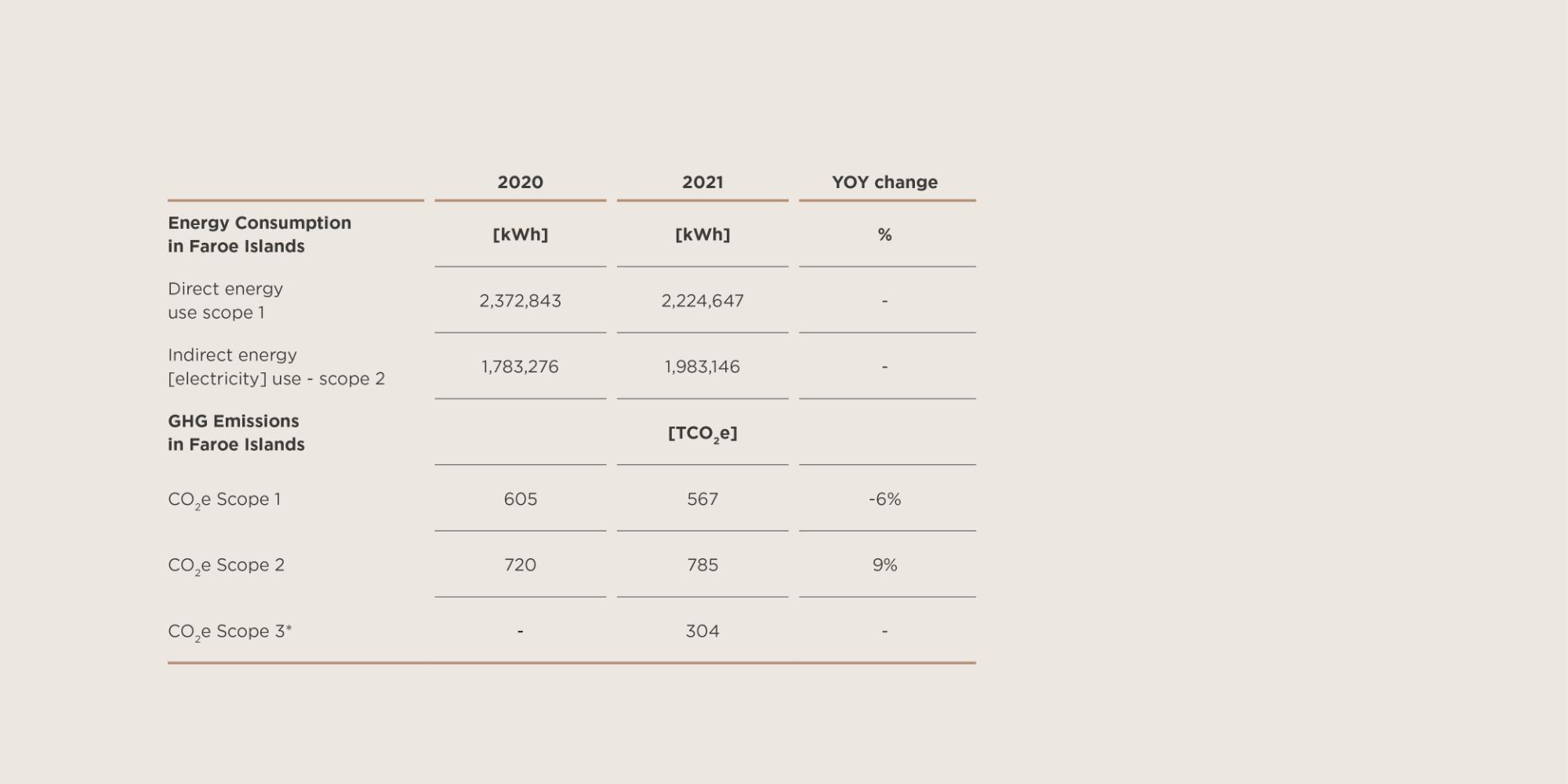 *(Reporting boundary: Employee Commuting, Business Travel, Waste from operations and Fuel & Energy related activities)
Gist&Vist Hospitality and Tourism
Incorporating sustainability into our business was a key theme in 2021. We started work to integrate sustainability into all our operations – from our management to the daily operations at our hotels and restaurants.
Our aim is to make improvements which will minimise any negative impacts we have on the environment.
Our first priority has been transitioning to green energy. We recently increased the room capacity at Hotel Føroyar with 71 new rooms and a new spa, an expansion which we had to factor in when we set our goal last year to reach net-zero emissions by 2030. When we started this large building project, we knew we had to find a sustainable heating solution – and we did – the extension relies entirely on ground-source heating. We have now made clean energy a mandatory condition in all new building projects.